[Hong Kong, 23 January 2014] Hong Kong Applied Science and Technology Research Institute (ASTRI) today (23 January) demonstrated four of its many home-grown innovative technologies the Institute showcased at the 2014 International Consumer Electronics Show (CES 2014) held in Las Vegas, USA earlier this month.
According to ASTRI's Chief Executive Officer Dr Cheung Nim-kwan, the technologies developed by the R&D centre of Hong Kong caught much attention of global buyers at CES 2014. He said, "Our booth housed in the Hong Kong Pavilion presented by the Hong Kong Trade Development Council was visited by an estimate of 10,000 CES attendees in total, resulting in about 440 enquiries and 4 media interviews on the spot. Close to 40 business meetings with more than 85 potential customers were engaged, giving rise to many follow-up activities for business deals after the event."
This is the first time participation of ASTRI in the Show. Altogether 14 ASTRI technologies which are readily available for commercialization were demonstrated during the four-day event.
ASTRI was not only promoting its technologies at CES 2014, but also supporting its Small-and-Medium-Enterprise partner from Hong Kong to grasp the opportunity to exploit overseas markets. Clever Motion Technology Limited, a Hong Kong innovative electronic product designer and solution provider, who partnered with ASTRI in developing a unique nano personal computer, also called "BoBo Nano PC", made great strides in tapping into the international market by demonstrating the product at CES with ASTRI.
Mr Alan Kan, Managing Director of Clever Motion Technology, said, "Embedded with ASTRI's technologies, BoBo, an innovation that exemplifies the technical capabilities of Hong Kong, was well received by technologists, buyers and the media alike at CES 2014. I think technology based companies in Hong Kong in search of ways to reduce development cost and shorten the time to market will find it beneficial to explore ASTRI's technology offerings."
BoBo Nano PC was one of the highlights in today's demonstration. Powered by Android Graphics Processing Unit (GPU) technology, BoBo is known to be the world's first multi-window Android nano PC. Riding on the open source Android operating system, it provides PC users with versatile choices of apps. The nano PC also comes with WiFi hotspot, and supports simultaneous output for both VGA and HDMI display. Furthermore, users can push digital contents and documents from smart phones and tablets to LCD monitor and large TV screen concurrently.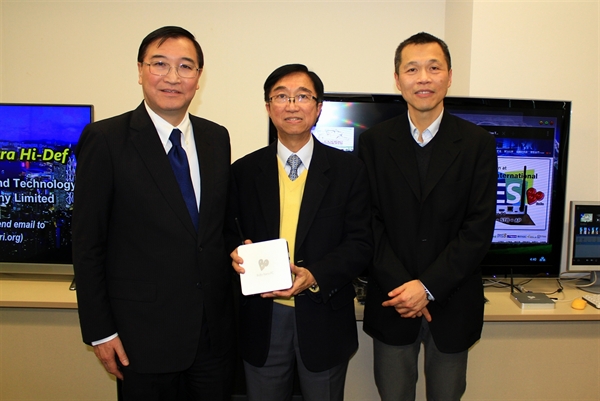 The Multi-window Android BoBo Nano PC, which attracted a lot of attention at CES 2014, is co-developed by ASTRI and Clever Motion Technology. (From left) Dr Cheung Nim-kwan, CEO of ASTRI; Mr Alan Kan, Managing Director of Clever Motion Technology; and Dr Jay Liou, Director of ASTRI's Enterprise and Consumer Electronics Group